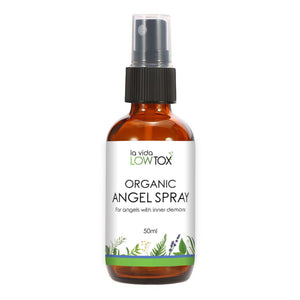 La Vida Low Tox
Angel Spray (aka. Poo Spray)
Regular price
$18.00
$0.00
Angel Spray (aka. Poo Spray)

Protect your angel image against those inner demons! 
Use this spray for those times when sharing is not caring 💩😷.  Ideal for workplaces, events, restaurants, parties and fashionable places; for all those times when nature calls (and the call needs to be answered).  Angel spray works by forming a barrier on the toilet water surface, you exorcise your demons (do your biz, poop, drop the kids in the pool, etc) and the stink is trapped under the surface.  Flush and be done with it.  Surface from the cubicle with your angel image intact (hence the name 👼🏼) - and the lovely fresh scent of eucalyptus, peppermint and lemon behind you. 
Australian Made & Owned.
Instructions
Spritz 3-5 times into toilet bowl, do your biz, and flush!  A spritz after never goes astray for the big jobs.  It's good for your karma.
Note:  Angel Spray is a poop smell masking spray.  It's designed for use IN the toilet BEFORE you poop.  It has special ingredients that form a fine fragrant film over the toilet water, trapping the poop smells underneath.  If you want a room spray for after you poop, go for either our Organic Room Spray (scented with lavender essential oil, or Monster Spray (scented with lavender and sweet orange essential oil).
Ingredients
Distilled Water, Fractionated Coconut Oil*, Vegetable Glycerine*, Stearic Acid, Emulsifying Wax, Breathe Free Essential Oil* (Cedarwood Atlas Essential Oil*, Peppermint Essential Oil*, Lemon Essential Oil*, Eucalyptus Essential Oil*) .
*Denotes Certified Organic

Precautions
Not for internal use. Store below 30°C.

---
Share this Product
---
More from this collection